BU047 NICE DIMMICK BULLET...MEASURES 45X95...RECOVERED FROM CORINTH, MS.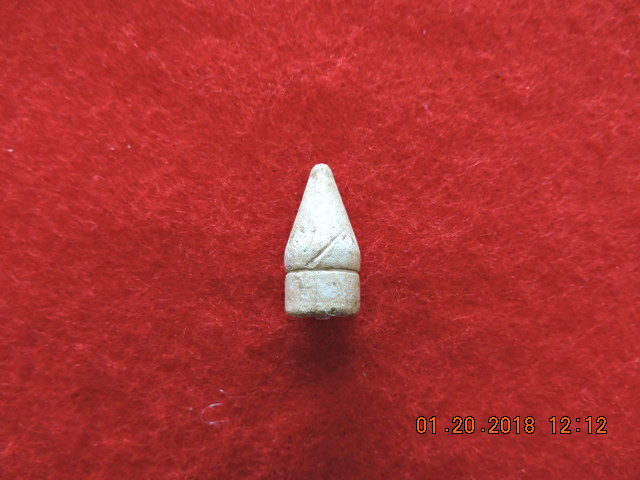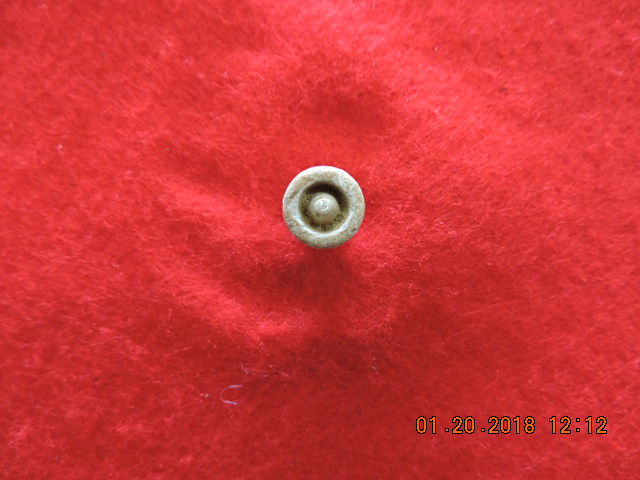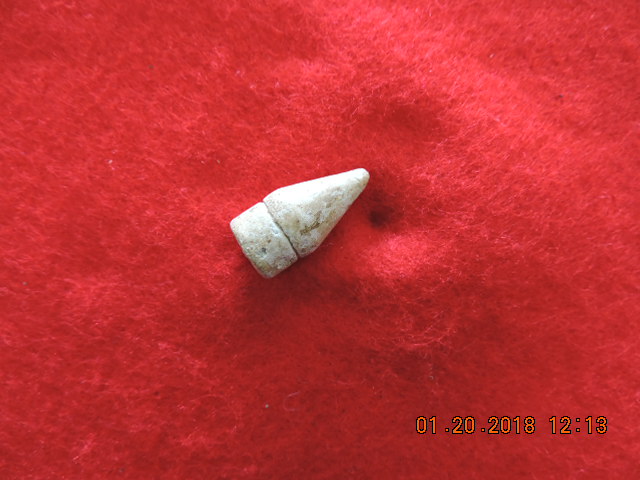 $55.00
ME049 REGIMENTAL LETTER "E"...MEASURES 1 INCH IN HEIGHT & WAS RECOVERED FROM CORINTH, MS.
$55.00
BP023 "US" BUCKLE WITH VERY PRETTY FACE...WOULD PASS FOR NON-EXCAVATED. THE TWO STUD PUPPY PAW HOOKS REMAIN
ON BACK WITH THE MAIN HOOK MISSING...DISPLAYS VERY WELL.
$195.00
ME048 BRASS HEEL PLATE IN EXCAVATED CONDITION WITH A "5" STAMPED IN CENTER...SIZE IS 1 3/4 X 1 3/4...DISPLAYS WELL.
$24.00
BT005 NICE EXCAVATED COAT SIZE CONFEDERATE SOLID CAST BRASS INFANTRY "I" BUTTON...NICE EXAMPLE W/SHANK INTACT
$135.00
ME047 .32 CAL. BULLET MOLD...HAS TWIN CAVITY THAT CAST THE BALL AND THE CONICAL BULLET...IS IN GOOD CONDITION
AND READY TO USE.
$70.00
ME045 IRON STIRRUP...VERY NICE EXCAVATED SMALL STIRRUP RECOVERED FROM SHILOH, TN BY TEDFORD COLN MANY YEARS AGO...
METAL SLICK WITH NO PITTING...THESE WERE USED ON THE MYRIAD OF SADDLES OF THE ERA BOTH CIVIL AND MILITARY...
SOME ARE UNDOUBTEDLY CONFEDERATE.
$45.00
ME046 ALARM BELL...HERE IS A COOL LITTLE EXCAVATED RELIC...SOLID BRASS CAMP ALARM BELL...NICE AND THICK METAL...
SOLDIERS WOULD HANG THESE UP AROUND CAMPS TO ALARM THEM OF ANY INTRUDERS...NICE PIECE OF HISTORY HERE
$30.00
ME040 1831 LARGE ONE CENT PIECE, RECOVERED FROM A NORTH MS CAMPSITE. FREE SHIPPING!!!
$20.00
ME041 1826 HALF DOLLAR..."CAPED BUST"...WITH HOLE IN TOP...LOTS OF COINS FOUND IN CAMP SITES WOULD HAVE THESE HOLES
AS SOLDIERS WORE THEM SO AS NOT TO LOSE THEM. FREE SHIPPING!!!
SOLD
ME042 SCABBARD TIP...ODD SMALL SIZE TIP ONLY 1 3/4" LONG...THIS ONE IS ONE THAT IS HARD TO COME BY. FREE SHIPPING!!!
$30.00
ME043 NIPPLE PROTECTOR...COOL RELIC...DUG NIPPLE PROTECTOR WITH CAP STILL INSIDE. SMALL RYKER CASE INCLUDED
WITH FREE SHIPPING!!!
SOLD
MEO44 CARVED LEAD...NICELY CARVED RELIC...LOOKS TO ME TO BE SIMILAR TO A DOG'S HEAD...NICE PIECE OF SOLDIER
ARTWORK...FREE SHIPPING!!!
$25.00
ME039 IRON WATERING BIT...LOOKS MUCH LIKE THE STANDARD MODEL 1859 WATERING BIT.
$40.00
ME038 NICE EXCAVATED SPUR...BRASS SPUR WITH GUTTER BACK...ROWEL IS MISSING BUT HAS A NICE DARK COLOR. DISPLAYS WELL.
$65.00
BU042 M&M 171...NICE .54 CAL. BURNSIDE CARBINE...EXCAVATED FROM EASTPORT, MS MANY YEARS AGO.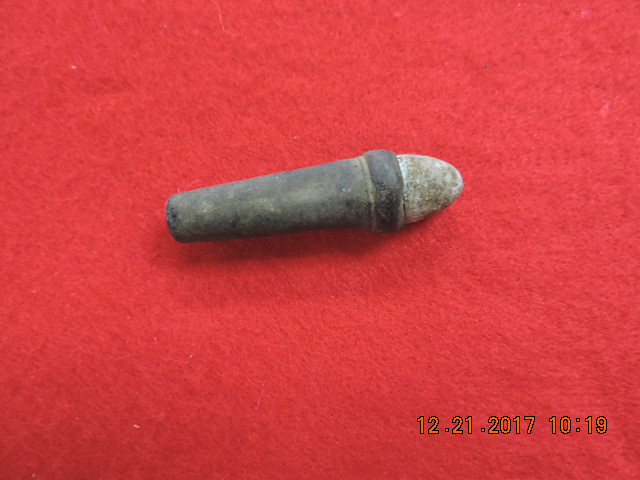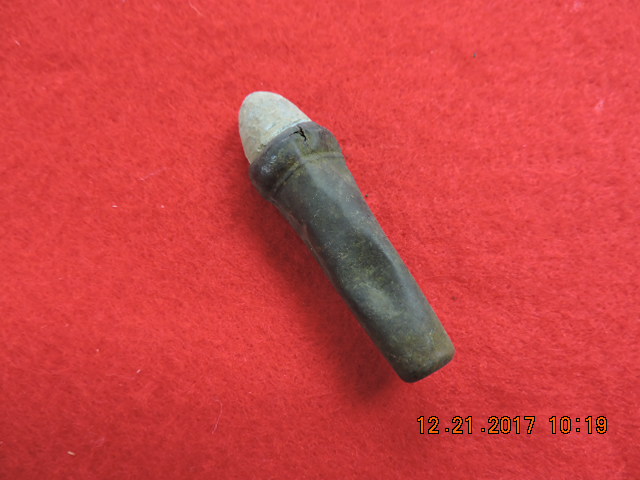 SALE PENDING
BU043 "BURNSIDE BACKWARDS"...HERE IS A COOL PIECE...A BURNSIDE THAT HAS BEEN REMOVED AND JAMMED BACK INTO
THE CASING UPSIDE DOWN...SOLDIERS WOULD DO THIS AS THEY NEEDED TO USE THE POWDER INSIDE TO START CAMPFIRES
OR DIFFERENT THINGS.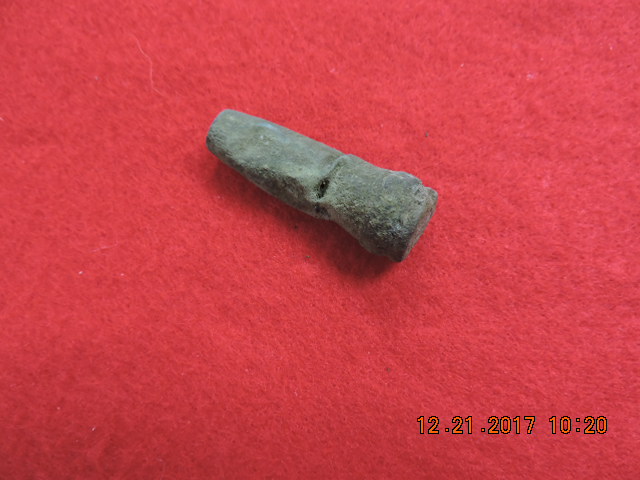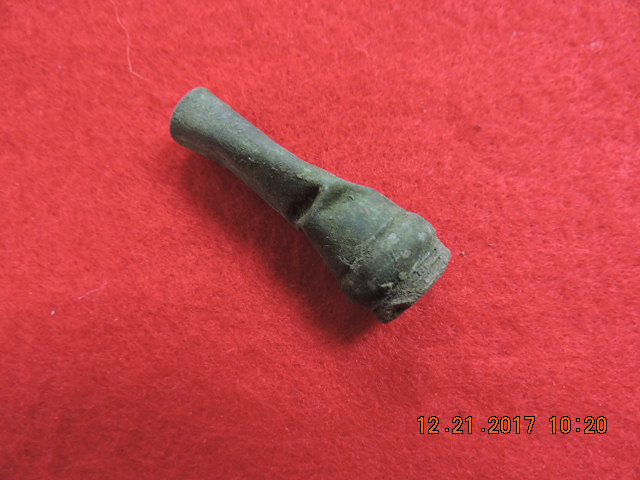 $60.00
BU044 HERE IS A VERY SELDOM SEEN SPENCER BULLET THAT APPEARS TO HAVE BEEN STRUCK BY ANOTHER SHOT...
IT MAY HAVE BEEN INSIDE A CARTRIDGE BOX AND GOTTEN STRUCK FROM A FLYING BULLET...YOU CAN TELL
BY LOOKING THIS IS NOT A PUT TOGETHER...EXCAVATED FROM EASTPROT, MS.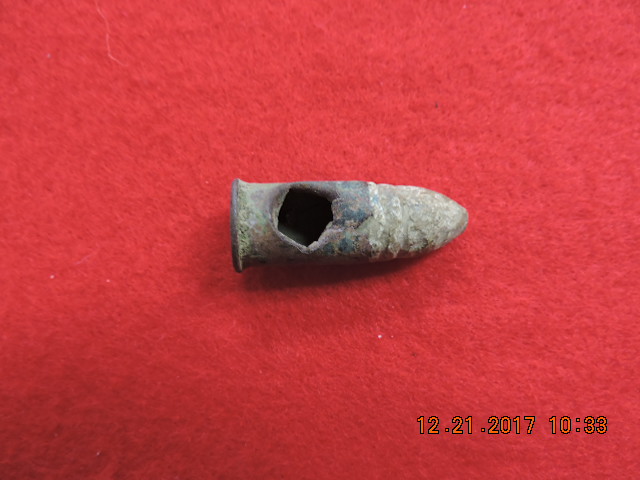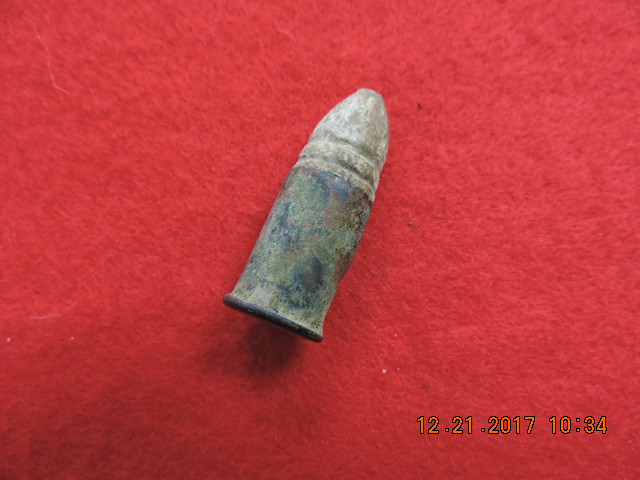 SOLD
BU045 M&M 155 CARTRIDGE...NICE EXCAVATED .32 CAL. LONG FOR SMITH&WESSON REVOLVER...RECOVERED MANY
YEARS AGO FROM EASTPORT, MS.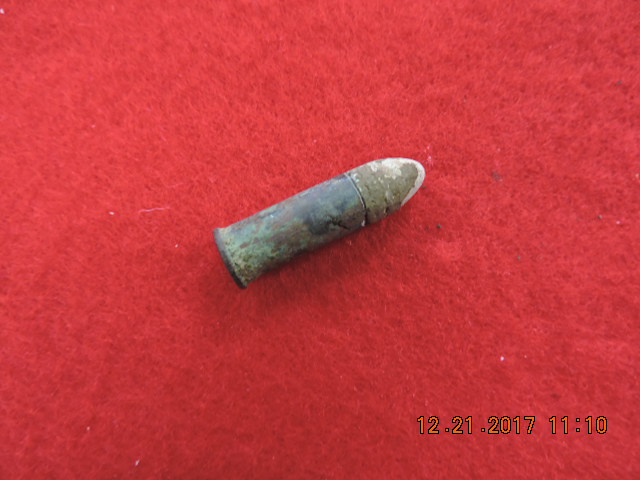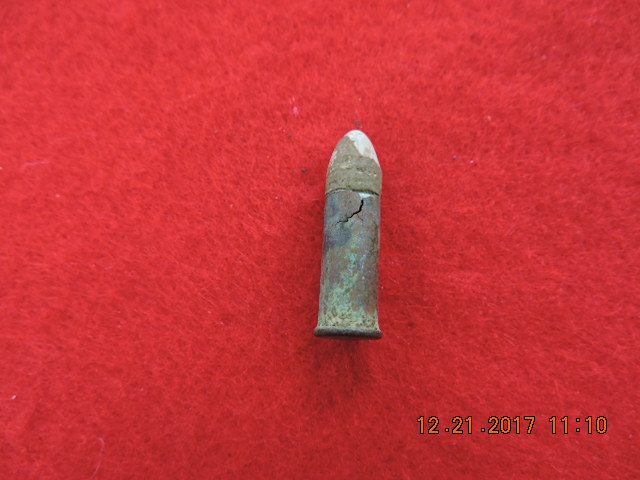 SOLD
BU046 M&M 95 CARTRIDGE...NICE EXCAVATED .41 CAL. RIMFIRE FOR A DERRINGER...NICE CARTRIDGE DUG AT EASTPORT, MS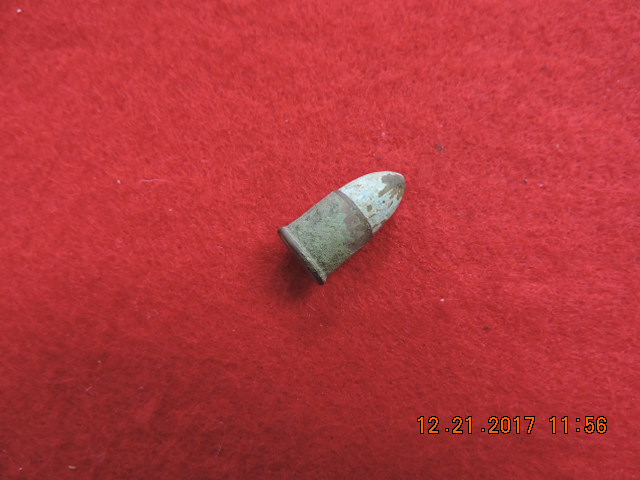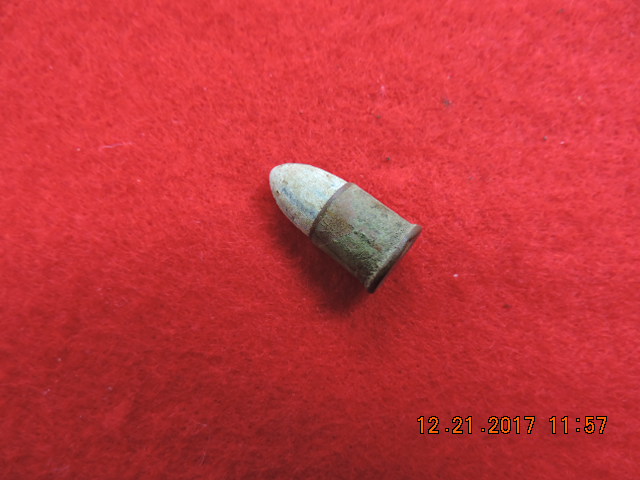 SOLD
BP021 "US" BOX PLATE...MINTY BOX PLATE WITH SMALL "4" STAMPED BETWEEN THE "U" & "S"...WE SEE LOTS OF BOX
PLATES WITH BACK MARKINGS BUT RARELY SEE MARKINGS ON THE FACE. FULL LEAD IN BACK WITH BOTH
LOOPS PRESENT.
$245.00

BU041 M&M 114...NICE EXCAVATED 11mm PINFIRE FOR REVOLVER..."SHORT"...FREE SHIPPING!!!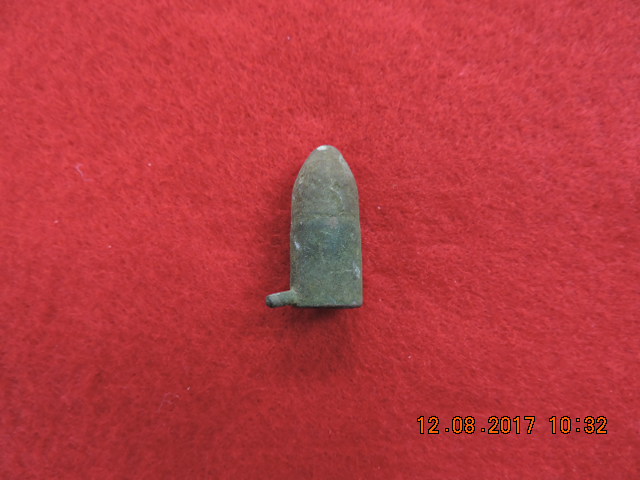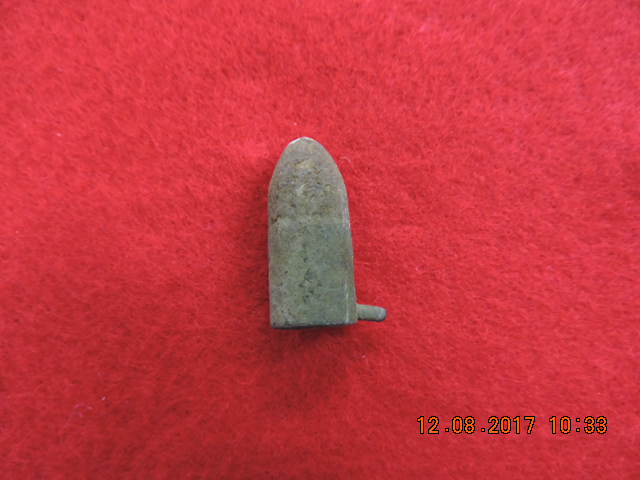 SOLD

BT004 FLORIDA FL1...DUG FLORIDA TERRITORIAL SEAL 2-PIECE WITH BORDER...RARELY SEEN BUTTON...HAS THE
13 FIVE POINTED STARS ON LINED FIELD. BUTTON IS FLATTENED DOWN SOME BUT DISPLAYS VERY NICE...
HAS NEVER BEEN CLEANED AND HALF PRICED OF A GREAT ONE.
$1200.00
BP019 BREAST PLATE...NICE BREAST PLATE WITH VERY PRETTY FACE, BACK LOOPS MIA BUT DISPLAYS VERY WELL.
SOLD
BP020 "US" BUCKLE...PRETTY "US" BUCKLE...CHOCOLATE BROWN COLOR ON FACE...ARROW TYPE HOOKS ON BACK...
HAS A FEW SURFACE DINGS BUT OVER ALL JUST A NICE BUCKLE
$245.00
ME037 "FLINTLOCK MUSKET HAMMER"...EXCAVATED HAMMER IN DUG CONDITION...LOOKS TO BE FROM A
1812 CONTRACT MUSKET. FREE SHIPPING!!!
SOLD